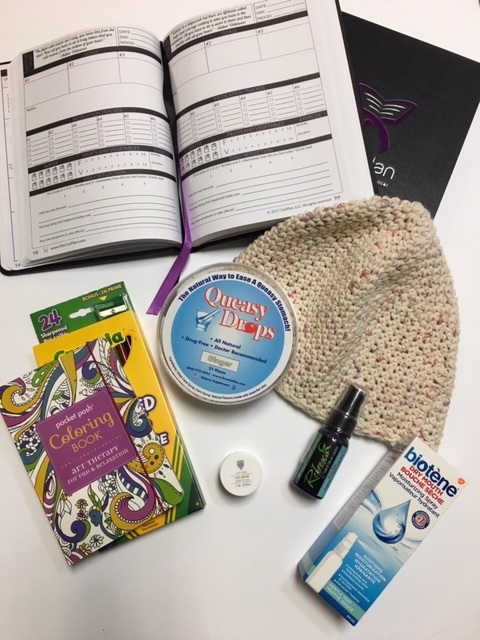 CHEMO KIT
Your Chemo Kit includes all the items you need to get through treatment just a bit easier!
CanPlan – the ultimate organizational planner to keep all your information in one place.
Biotene mouth spray – specific to returning the mouth to its original environment, thus helping with infection and soothing mouth sores.
Queasy drops – made with natural ingredients and cane sugar, these drops are helpful with relieving nausea and combating the metallic taste that chemo may cause.
Colouring book and pencil crayons to help quiet the moments and pass the time during treatment. Colouring is proven to reduce anxiety and calm our nerves!
Lindi Skin Lip Balm – soothes and hydrates dry lips and cuticles. Made specifically for people going through chemotherapy or radiation.
Refresca – all natural sanitizer made with essential oils.
GORP bar – Manitoba made protein bar, made with rice protein, very digestible and great to have as a snack during treatment.
Handmade knit hat.
Convenient cotton tote to carry all your goods in!
These items can be used at home and taken with you to treatment. All the items are portable and serve a functional purpose to help with side-effects. Put together in a convenient cotton tote, you will always be organized for your next appointment.
$155 plus taxes