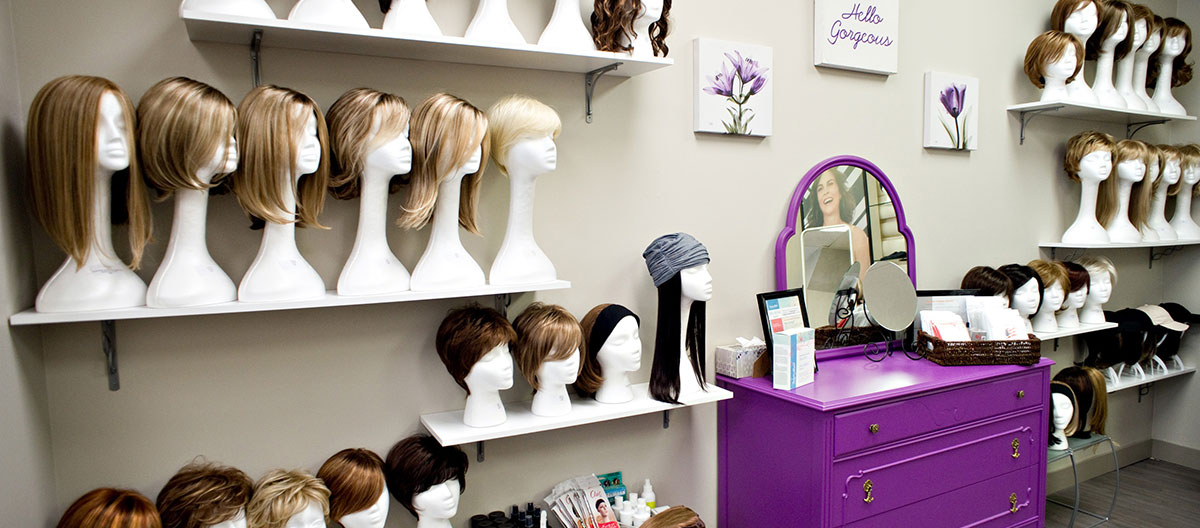 Wig and Hair Toppers
If you are facing hair loss due to treatment, thinning hair, Alopecia, or any other reason, the Unexpected Gift can provide options and a solution. At the Unexpected Gift we carry a large selection of synthetic wigs. We also have access to ordering human hair wigs and hair toppers.
Q: I am going to lose my hair from chemotherapy, when should I try on wigs?
A: When it is right for you. Hair loss from treatment is a hard realization, it is a process. You might need to come to the store and simply look at wigs, learn about the different cap styles and how they are made. Then come back another time. That is part of the process.
Some people want to find their wig before chemo starts, they want to be prepared. There really is no good time, really, it is not something you ever thought would be doing. I get that, I have been there.
Q: If I still have all my hair, how can I try on a wig?
A: You can, it is simple. When you come to try on wigs, we use a nylon to cover your hair and scalp (I apologize for this, it is horrible and you should never do this again, but it helps when trying on wigs and for wig hygiene). The wig will fit better once you lose your hair, but it is very possible to try them on before this happens.
Q: What is the difference between a synthetic wig and a human hair wig?
A: Well, other than the obvious, one is synthetic, and one is human hair there are other differences. Human hair wigs are far more expensive, and they need to be styled. When you wash a human hair wig, it would require styling. This is also a benefit, you can change the style of the human hair wig by using a blow dryer, curling iron or straightening iron. You cannot do this with synthetic, it will melt.
A synthetic wig is more economical and easier to care for. When you wash a synthetic wig, you simply place it on a stand to dry and it is the same style as when you first purchased it. So that is the drawback, you cannot change the style so you must like what you are purchasing. I can help you find that, and I will be honest with you.
Synthetic wigs are made in varying cap styles. The cap is the part that covers your head, the hair is sewn on to the cap. It can be machine tied, or hand tied. Machine tied wigs are made with wefts, (I will show you what I mean when you are here), hand tied wigs are tied onto lace pieces. There are many types of hand tied, mono-part, mono top and fully hand tied. I will show you the difference when you are here.
Q: I have Alopecia, can I still come to the Unexpected Gift?
A: Yes, please. There are many people with Alopecia that I have helped.
Q: My hair is thinning, what can I do?
A: I can help. Based on the progression of hair loss there are many options for hair toppers. Hair toppers clip into your existing hair and cover bald spots and add volume to your existing hair. Once we determine the progression of hair loss, the correct cap style and size can be determined. Then we figure out what colour you might need to match your existing hair. I wear one occasionally, so I get it and I can help.